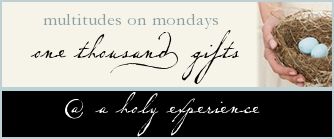 #170 - #251 (a random selection)
- morning winter light breaking over wind sculpted snowdrifts
- net ice fishing at Pigeon Lake this week
- my Grampa's 114th birthday would be this month!
- book club reads, discussions, snacks, friendships
- card parties with friends
- jars of spaghetti sauce from summer's goodness
- mercy and grace from God my Father every day
- brilliant blue skies
- mailing a birthday gift
- chicken tortilla soup
- early (as in 5:59 a.m.!) snuggles with Helayna
- playdough creations with Silas
- visit to the swimming pool
- her going down the waterslide all by herself
- snacks after playing in the water
- cooing and playing in the bathtub
- Peyton imitating faces
- her clapping hands all by herself!
- seeing how much she's changed in 1 month
- reading books together
- baking cookies for them
- waffles, whipped cream and berries
- taking Peyton for a walk
- her talking and laughing while swinging
- the opportunities God gives me each day!