Really and truly
Ann's writing at A Holy Experience
is such a blessing! Her thoughts today fit perfectly with yesterday's message at church about building on the firm foundation of God's love. I am amazed at how God reinforces these thoughts so they are front and center for my daily living.
So I begin this week pondering these words of Ann's - and agreeing wholeheartedly with them!
"Unless we make it a habit to give thanks, we habitually give our family grief.
Unless we consistently speak praise, we consistently speak poison.
Unless we are intentional about giving God glory throughout the day, our days unintentionally give way to grumbling.
"
And I need to hang them in every corner of my house and of my life that my living might give Him the glory!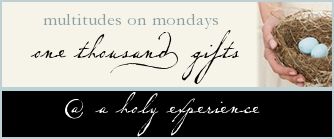 #2910 - #2935
- vacuumed floor, first thing in the morning
- clean windows in the tractor
- bright tablecloth, a long ago gift from my aunt
- little vase brought home from Prague
- lavender and white sweet peas in that vase
- sweet scent of sweet peas that I grew
- how much they remind me of my Dad
- time off from fieldwork
- pictures and videos of our grandchildren
- fenceposts marching along the property line
- jars of relish put away on the pantry shelf
- dreaming of new quilts to make
- chocolate zucchini cake batter
- square bowl from my sister
- shelling peas
- wise messages that seem to be written just for me
- bounty from the garden and fields
- birds circling in the sky
- new worship songs
- washing machine and dryer, working away
- looking back through pictures
- cleaning off another corner of the kitchen counter
- praying as I drive
- seeking His strength and support
- building everyday with Him as the foundation