The third week in January already - and His grace just keeps giving me more than I can imagine. Waking in the morning to know that He created the day, He is in the day with me and He brings the day to an end gives me comfort and brings peace to all that might develop in the day. And my eyes are opened to see more and more!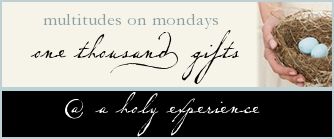 #3538 - #3573
- surviving -33 degrees Celsius with no problems
- warm winter clothes in layers
- staying inside
- furnace blowing warm air
- hot water
- rocking chair
- reading from my Bible
- seeing the same words - one of His surprises!
- reading a book about being His voice and hands
- sharing
- pizza for supper
- picture outtakes
- conversations
- heeding messages spoken
- supper waiting in the fridge
- thoughts from Ann about a House of Prayer
- moderating weather
- plans changed - for the better
- finishing a project
- red berries hanging on the bush
- glistening brussel sprouts
- birthday gifts
- evergreens silhouetted in the blue winter sky
- celebration of a life well-lived
- folded laundry
- guitar music
- gathered around the supper table
- pumpkin pie with whipped cream
- singing along
- home concert
- His forgiveness every day
- every need supplied
- His presence
- trusting Him
- the promise of eternity with Him