"The brave who focus on all things good and all things beautiful and all things true, even in the small, who give thanks for it and discover joy even in the here and now, they are the change agents who bring fullest light to the world."
There is no question in my mind about why I do this counting. It's because He gives me so much and sometimes I am so bogged down with the world and its expectations that I don't see and feel and hear the goodness all around me. I listen to Satan comparing me to others, leading me into doubts and worries, herding me away from the Father. But when I stop and look and really see and count and write, then my soul is lifted up and my eyes rest on Him and I see all that He has given and done for me. As the sermon at church yesterday said I must be converted like Saul was on the road. I must turn away from all that is leading me away from Him and truly follow and live in Him. And my counting keeps me fixed on and in Him, the source of all joy!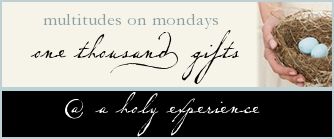 So I continue the count on a Monday in New Brunswick -
- supper with dear friends, Edward and Linda
- conversation around the table and across the living room
- walking to see the lighthouse
- learning a little more history in this new place
- watching Samuel play - and playing with him
- cool breeze blowing through the shutters
- a parade with fire trucks, bagpipes, drums and comrades marching to the church on a Sunday evening to honour a fellow fire-fighter
- strawberries and raspberries
- a good and patient helper
- a new "guitar" raquet
- Samuel playing drums after church
- flea market finds
- summer meals
- Melinda's vegetable box
- sending postcards
- working together in the kitchen
- conversation with our daughter and son-in-law
- beautiful old houses
- blooming flowers everywhere
- a swimming pool on hot summer days
- watching a little boy and his parents
- studying God's word
- reading the Bible with this family after every meal
- "Please, may I be 'scused?" from a little boy when he's done eating
- a mommy and daddy who are smitten with their little one
- a new haircut for a little man
- jars of summer all lined up
- Samuel playing soccer in the rows between the raspberries
- giggles and much laughter, something usually reserved for Grampa play
- daddies who play with little ones as soon as they get home from work
- good food, like salmon and honey, from the Farmer's Market
- fresh batch of jam
- trying new recipes together
- beautiful weather
- a trip to the Farmer's Market
- u-pick farm and 6 more quarts of raspberries
- the hospital where Tyler is learning and working
- playing games in the quiet of the evening
- an overhead fan
- hearing again how much God desires a relationship with me (and you!)
Thank you for the richness of the life you give me, Father.