I've been reading the New Testament in my Bible and am currently in the book of Romans. Yesterday we attended service at
Rockpointe Church
with Heather and Jonathan and the sermon was on Romans 4 - exactly where I was in my reading. It's amazing how God orchestrates stuff like that!
In this chapter, Paul talks about Abraham, his faith and his relationship with God. I knew that Abraham was an old man when his wife Sarah conceived a child but I had no idea that he had to wait for 14 years for God's promise to come true. Are you like me and often wondering when (oh, when!) will God keep His promise or answer my prayer? It dawned on me that I might have to wait 14 years sometimes but God always comes through if I have big faith. The pastor talked about 'Big Faith, Big God' and how we sometimes fail to believe how big our God really is - there is nothing He can't do!! It was an awesome service.
When we have faith, God's grace is boundless - and I already knew that but hearing it again was exactly what this wandering spirit needed to hear. Faith that He can do anything - faith that He can do more than I can even imagine - faith that praying and giving it to God is far better than my worrying.
So I count more grace-gifts and thank Him for filling my life with more than I even realize.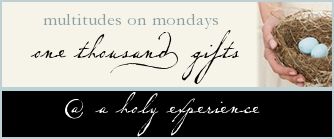 #3086 - #3111
- no frost until October 1st
- Bob picking the last apples from the top step of the ladder
- a box and a basket full of tomatoes to take south
- picking pumpkins and squash off the vines
- marigolds shining on in the garden
- connecting with challenging students
- watching their faces light up as they imagine the story
- maps and finding places
- educational assistants who really know and understand kids
- flexibility about when I go to work
- visits with our children and their families
- weekends away from home
- watching our son in the kitchen and in the garden
- Kelsey's first hockey goal
- pumpkins hiding and surprising K
- last Farmer's Market of the season
- watching Helayna pick out a pumpkin
- yellow leaves covering the path
- Sunday afternoon walks
- big sticks + streams = happy kids
- travelling home safely
- memories of two days
- planning for the next week
- still more tomatoes to pick
- His amazing, boundless grace!