A quiet day at home - transplanting squash and zucchini, putting some asters in a pot, watching plants emerge from seeds, sewing something special, reading blogs and books - resting in His love and grace. As the season moves through the last days of spring complete with frost and one last (I hope!) round of snow, my heart is full of thanks and joy at all that I've been given. God's love is endless and that is reason to celebrate!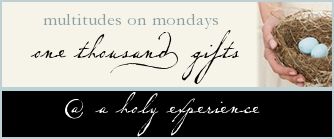 #2564 - #2593
- blooming lilacs
- the smell of lilacs as I go by on the path
- a day at home
- computer and printer
- friendships
- open window + birds singing + wind rustling leaves
- birthday gifts
- hearing Bob practise his German conversation
- sunset stroll in gardens
- zucchini roots poking through holes in the pots
- fruit forming on the tomatoes
- washing machine working away
- a new box for plants
- juicy green grapes
- hockey games
- pictures of our children and grandchildren
May, 2010
- inspiration online
- packages ready to mail
- delicious oranges, crisp from the fridge
- pots of flowers outside on the grass
- meals shared
- last apple pie from the deep freeze
- smiles from Maëlle
- sewing and new fabric
- finishing a neglected project
- vacuumed floors
- homemade sweet potato fries and salmon burgers
- evening walks
- His love for me!